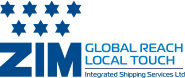 ZIM Integrated Shipping Services LTD is an Israeli maritime line with over 60 years in the shipping industry. It is one of the few lines that operates in the Dominican Republic, offering  service to the ports of Caucedo and Río Haina.
This line features a fleet comprised of over 100 modern vessels, including mega ships of 8,000 and 10,000 TEU (twenty-foot equivalent unit) with  cargo capacity above 337,000 TEU.

Additionally, they operate approximately 358,806 containers, of which 34,250 are designed for special equipment.
A company noted for the management of container-packed shipped goods, it is committed to offering the best solutions based on experience acquired over more than half a century, during which time their services have extended to China, Japan, Korea, the Mediterranean region, as well as both the Eastern and Western Coasts of the United States.  The company's services also encompass all the Caribbean Islands and the Eastern Coast of South America.
For more information on Products and Service